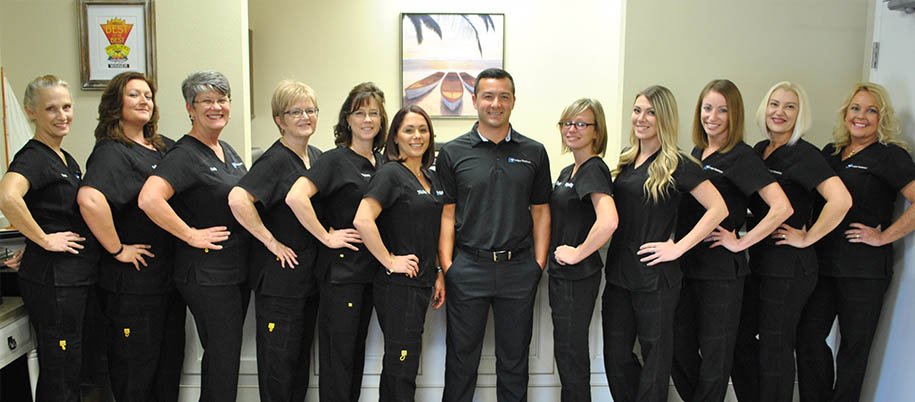 Ledger Dentistry follows the philosophy that conservative treatment plans and no high pressure sales tactics along with ZERO judgement, is the best way to help patients achieve their healthiest smile.
Since acquiring the practice in 2008 Dr. Jeremy Ledger and his wife Nicky have strived to create a warm, welcoming, clean environment for the patients and staff. "We Cater to Cowards" is their tag line and they truly do. Doctor Ledger and his staff are experts at every aspect of making patients feel calm and relaxed during treatment. They also offer Nitrous Oxide "Laughing Gas" and sedative medication to ensure a pain free positive visit.
Doctor Ledger has studied and perfected his injection technique and patients say all day long that "He is just the Best at giving injections". ( G. Sanjorge) He is never opposed to pausing at any point during treatment to give more anesthetic, the patients comfort is top priority.
Ledger Dentistry uses advanced technology and good old fashioned one on one time to come up with the best options for each individual patient. There are four Hygienists at Ledger Dentistry. Dee Dee, Lindy, Jenn and Katie and you will actually look forward to seeing them twice a year. They will offer you a complimentary warm paraffin treatment for your hands, a blanket and pillow and every chair is equipped with a massager and a heater.
Ledger Dentistry offers so many services that the majority of your dental care can be taken care of in house. From traditional Braces and Invisalign to Crowns, Veneers, Fillings, Dentures, Extractions, Implants and so much more. Children are always welcome to experience a "Happy Visit" at no charge. They will take a ride on the dental chair and even get the opportunity to press some buttons to see how things work. The Hygienist will count their teeth with them and explain how important brushing and flossing is.
Doctor ledger has always maintained that honesty, compassion and professionalism is the only way to live a fulfilling life and run a successful practice. Each year he runs 2 campaigns in order to give back to the community that has put so much trust in him and treated him with such loyalty. One in the fall that gives braces to one lucky member of the community and one in the spring to ensure 2 children receive Infant Self Rescue Swim Lessons. Ledger Dentistry has won Best of the Best several years in a row and their online reviews are exceptionally positive. So, next time you are thinking of your Dental needs Keep Ledger Dentistry in mind!